SYSTEM ANALYSIS - 5 ECTS
System analysts: Designers of solutions in NRM
Natural Resource Management (NRM) problems are often quite complex. Solving them by intuition is not a good idea. Systems analysis helps you to better understand the problems you are trying to solve. More insight means better solutions and more transparency in decision making. As a systems analyst you will be in the position to break down complex NRM situations into manageable pieces. Become an expert. Subscribe to our course systems analysis.
This course is part of the iGEON e-Learning Programme.
We use the term system a lot in daily life. Management system, information system, ecosystem, decision support system are just a few examples. But did you ever wonder what a system actually is? As soon you get grip on defining systems, you will see the benefits of systems analysis. We need systems analysis to come to scientifically sound NRM decisions. Especially now that "biobased", "smart" and "green" are hot economical sales arguments. How smart are the consequences of biobased and green in space and time? Finding answers involves a multi-disciplinary approach including systems thinking and geo-information science.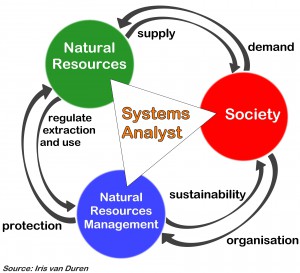 Aim
This course aims to train you in systems thinking. After this course you will be able to define a system and unravel causes and effects in complicated NRM problems.
Approach
Translating real life into a system is not easy. It involves creative thinking. How to link elements and processes in and outside the system boundaries? Step by step you will learn to design a conceptual diagram and to define a system. And you will apply geo-information science to quantify elements and processes in your system. We offer actual NRM problems to describe and analyse management systems. We challenge you to find out what is missing or what is wrong in a system. If you know how to do that, you will see that finding solutions in NRM is much more straightforward.
detailed description
For more information, click here.